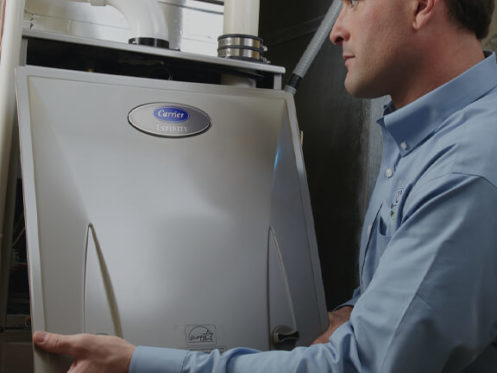 When the time comes to replace your home or office building's heating system, keep in mind that there is more to the process than just installing a new furnace. There is a wide variety of building codes and regulations that must be adhered to by law and that outline the electrical wiring, structural requirements, plumbing, and other items that are involved with the installation of a new HVAC system. This labyrinth of regulations must be adhered to down to the smallest detail. Trusted Heating & Cooling in Austin, Texas, can help you to rest assured that your new heating system meets every building code requirement.
What Are Building Code Requirements?
Building code requirements cover everything from the size and placement of your HVAC ductwork, proper ventilation, permits required, and much more. The specific requirements can be different from one location to the next; however, most areas align their requirements with the Uniform Mechanical Code. This is a manual written by The International Association of Plumbing and Mechanical Officials. It is reviewed and updated every three years to include any new information about safety, efficiency, or new products to ensure that all standards are up to date.
Which Codes Apply to My Furnace?
If you happen to be a homeowner who oversaw the construction of your own home, then you will be aware of the seemingly endless lists and pages of requirements for the installation of your new home's HVAC system. These instruction guides can easily be hundreds and hundreds of pages long. Additionally, they are not set in stone, so by the time you are ready to install a new furnace, no matter how much you have studied and familiarized yourself with all the information available at that particular time, you will essentially need to start from the beginning because regulations and requirements change on a continuous basis. Whether you are replacing an old furnace, remodeling, or adding an extension to your home, there are legal requirements that must be met in order for your home or office to be considered code compliant.
Can I Install a Code-Compliant Heating System Myself?
While it is possible for you to do the most basic part of installing your heating system if you have the proper training and experience, it is highly unlikely that anyone other than a skilled professional can do so while meeting all the requirements necessary for your furnace to fully code compliant. Before the process even begins there are a number of permits and forms that must be acquired. This is something that a professional HVAC technician deals with on a regular basis. Not only can they save you time by handling these matters, but they can also save you a lot of money.
There are also many technical details that go along with making sure your heating system meets all code specifications. Overlooking a single one can mean starting the process all over again, delaying the entire project. This can be especially tedious if you are not accustomed to doing this kind of work. A professional HVAC technician, like the ones who make up our team here at Trusted Heating & Cooling handles these kinds of jobs on a regular basis. They are fully trained HVAC experts who know exactly what is required to install your new heating system so that every code requirement is met the first time around, saving you even more money and time.
Above all, having your new system installed by professionals ensures that it will be done safely. This is the main reason the codes and regulations exist in the first place. No one would intentionally overlook a safety hazard issue such as a gas leak or faulty wiring, but accidents do happen, especially when the person doing the installation is a do-it-yourself type. Not the least of the dangers is the possibility of harmful or even fatal shock to yourself if you make even a small error during installation.
What Happens If I'm Not in Compliance?
It isn't just new homes and buildings that can be out of compliance with the regulations and requirements set forth by the International Association of Plumbing and Mechanical Officials' guidelines. Older structures are quite likely to be non-compliant in several areas. Fortunately, older structures with pre-existing HVAC systems are grandfathered in where the new regulations apply. This means that there is no need for an inspection or updates every three years. However, before the space can change hands, upgrades will have to be made because everything will be required to be code compliant prior to a sale being completed.
There is also the matter of homeowners insurance. Old or new, if your home does not meet all code regulations, it will be extremely difficult to find an insurance company that will cover your home if it has a non-compliant HVAC system. While it is possible to find a company that will ensure the dwelling, it will be considered high risk, meaning your insurance rates will be costly.
Overall, it is going to save you money, increase the value of your home, and, most importantly, keep you, your family, and your belongings safe if you choose to upgrade your heating system. If at any time in the future you decide to do a home improvement project or if any damage occurs to your home that will need to be repaired, you will be required to update your HVAC system before you will be able to obtain any necessary permits for the work. It is a much wiser choice to do this before it becomes a necessity and adds to costs already in play.
Why Hire a Professional?
Although there are many home improvement projects that are perfectly fine for
the do-it-yourself enthusiast, replacing an HVAC system is not one of them. Hiring a professional HVAC company to do the job gives you the peace of mind of knowing that it will be done right the first time. It will be completed in a timely manner and you, your family, and your home will be completely safe.
There is also the likelihood that having the job done by professionals will save you money. Companies generally have arrangements with top suppliers of HVAC systems, parts, and accessories that allow them to purchase what they need at discounted prices. They are then able to pass those savings along to you. Compare this savings to purchasing all the things you would have to buy from a retailer in order to do the job yourself. You will generally discover significant savings by going with a professional HVAC company.
How Can I Choose the Best HVAC Company?
Choosing the best HVAC company to install your new heating system isn't too difficult. Start by talking to local friends and neighbors to see if they have any recommendations. There is no more trustworthy advertisement than word of mouth from satisfied customers.
You can also utilize the internet at your convenience to research reputable local HVAC companies. Read customer reviews, check the company's rating with the Better Business Bureau, and check online sites such as Angie's list, Facebook, and Yelp for information and recommendations. One great online source is a community Facebook page for your area. Many times, you will find customer reviews and other helpful information for local HVAC companies there. And after you've chosen one and your work has been completed, don't forget to go back to these sources and leave a review of your own.
Trusted Heating & Cooling Can Help With All Your HVAC Needs
If you are located in the Austin area, you don't need to look any further than Trusted Heating & Cooling. We've been in business serving the good people of Austin and the surrounding areas since 2013. We are proud of our A+ Better Business Bureau rating. Our customers' satisfaction is always our main focus. Along with heating system replacement, our highly skilled NATE-certified team of professionals also provides the following services:
Emergency service 24/7
Indoor air quality testing
HVAC repairs
HVAC system cleaning including air duct cleaning
Tune-ups and maintenance
Free estimates
If you have questions or would like information on any of our services, please give Trusted Heating & Cooling a call. We look forward to serving you!