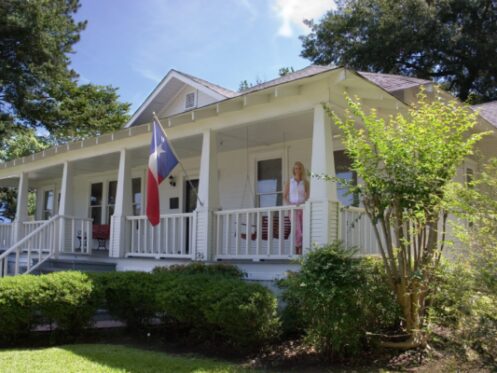 While it's always good to learn new things about your home's heating and cooling systems, sometimes it's nice to take a break from that to appreciate the incredible city that is Austin, Texas. At Trusted Heating & Cooling, we take great pride in being able to serve this special city. As a small way to say, "Thank you," we want to use this article to highlight some of the things that make Austin truly unique. Whether you're new to Austin or you've lived here your entire life, we hope you'll find some new reasons to take pride in your city. From the eclectic music and food options to stunning outdoor and architectural sites, there's something for everyone to appreciate.
Live Music
Many people think of Nashville when they think of a great live music scene, but Austin natives know better. With an array of festivals, concert venues, and music halls, there's always live music to enjoy in Austin. If you're looking for country music, try the Continental Club & Gallery or Cactus Cafe. Singer-songwriters will feel right at home at The Saxon Pub. Or, if you want to watch a show with a working carousel as its background, you can try the aptly named Carousel Lounge. The creativity and low cost of living in the city have long drawn in musicians of all types, making Austin one of the most important and legendary cities in the Texas music scene.
Capitol Building and Park
As the capital of Texas, Austin is home to a beautiful capitol building that's situated in the middle of the city. It features a dome that's taller than the one on the capitol building in Washington, D.C. Unlike other state capitol buildings that tend to be in the middle of busy city blocks, Austin's capitol building sits in a beautiful park that features 22 acres of green space, monuments, and walking paths.
Bats
Even if bats frighten you, it's hard to deny that they're helpful creatures. Although bats usually prefer more rural settings, the bats in Austin are famous because they like to hang out in the midst of the hustle and bustle. The Congress Avenue Bridge is home to more than 1 million bats during the warmer months. Every evening, the entire colony of bats emerges from under the bridge for the bats to enjoy their nightly feast of insects. At Trusted Heating & Cooling, we're proud to share our city with these creatures because it means fewer mosquitoes trying to nibble on us when spending evenings outside.
Lake Life
Austin is also privileged to have two nearby lakes, making it famous among anyone who enjoys year-round watersports. On Lake Travis, you can take part in a zipline adventure, rent a motorboat, enjoy a day of water play on the floating challenge course at Lake Travis Waterloo Adventures, or watch a beautiful sunset at a stunning lakeside restaurant. If you prefer activities like fishing, you'll want to check out Lady Bird Lake. This lake is well-known for its largemouth bass and sunfish populations. Since Lady Bird Lake also passes under the Congress Avenue Bridge, you can get a unique view of Austin's bats by paddling a kayak close to the bridge at dusk.
State History
As Texas' capital, Austin is home to plenty of state history that can be found within the city's boundaries. One great way to experience this history is to visit the Texas State History Museum. This museum is larger than life, measuring an astonishing 180,000 square feet. With over 18,000 years of Texas history to cover, there's always something new to discover. Furthermore, the entire area around the state capitol building is chock-full of historic structures, many of which date back to the late 1800s. For fans of architecture or history, Austin is a must-visit city.
Open-Wheel Racing
Racing is another important part of what makes Austin great. While there are certainly plenty of NASCAR fans in and around Austin, the type of racing that Austin is most famous for is open-wheel racing. Specifically, Formula One racing. Austin, Texas, is currently the only place that Formula One fans can watch a Formula One Race on American soil. Every year, Austin hosts the United States Grand Prix at the Circuit of the Americas. The superiority of the Circuit of the Americas racetrack has garnered the interest of other racing circuits, so you can also catch NASCAR and other types of racing at this world-class racetrack.
Exquisite Dining
Austin has countless restaurants that are sure to appeal to diners looking for a variety of foods. Austin wouldn't be a Texas city if it didn't have some mind-blowing barbecue, and that's just what you'll find at The Salt Lick BBQ. For Southern favorites like fried chicken, chocolate chess pie, and macaroni and cheese, look no further than Gus's World-Famous Fried Chicken. For something more upscale, many diners prefer the Mediterranean-inspired dishes at Aba-Austin or the Cajun flavorings you'll find at the French Quarter Grille. Many of these restaurants are concentrated near other Austin hotspots, making it easy to spend a great night out with friends.
South by Southwest
The South by Southwest music festival brings in many different genres of music, with some years featuring more than 2,000 acts. You'll also find related festivals for film, interactive media, and even education during the South by Southwest. This festival has been growing annually for more than 35 years and draws approximately 200,000 people to the city every year. During the festival, you'll find many unique street vendors with art, food, and souvenirs for sale.
Whole Foods and Other Notable Companies
If you enjoy the natural and organic foods that you can find at the popular Whole Foods retail store, you have Austin, Texas to thank. The unique local culture found in Austin was the perfect environment to nurture the visionary minds of founders John Mackey, Renee Lawson Hardy, Mark Skiles, and Craig Weller. If you're not into organic groceries, you might also be intrigued to learn that Austin is the birthplace of other iconic brands that include Vrbo, Dell, Indeed, Yeti, and Chuy's. The large number of tech-related companies founded in Austin testifies to its status as a national hub for technological innovation.
Your Hometown HVAC Specialists
As you can see, we take a lot of pride in our hometown of Austin at Trusted Heating & Cooling. This same pride carries over to our heating and cooling services, including installing air conditioners, repairing furnaces, installing ductwork, or maintaining mini-split systems. Since our company was founded more than 10 years ago, customers in Austin and the surrounding communities have come to rely on Trusted Heating & Cooling for top-notch service, affordability, and reliability. That's a big reason why we're able to maintain an A+ rating with the Better Business Bureau and continually receive five-star customer reviews. To learn more about how we can help keep your home comfortable, contact us at Trusted Heating & Cooling today.