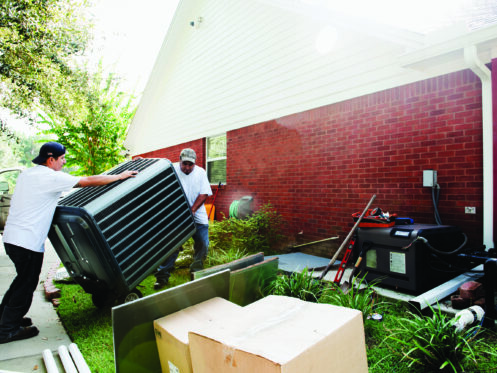 When choosing a new air conditioner or heat pump for your Austin, TX home, it's important to consider the efficiency ratings of individual models. These ratings set the minimum standards for efficiency that guide HVAC design and manufacturing. They also let homeowners know which units will offer the best performance for the least amount of energy. Seasonal energy efficiency ratio (SEER) ratings have long been calculated by dividing the AC or heat pump output over a standard cooling season by the amount of energy used throughout the same period. In January 2023, SEER ratings for heat pump and AC efficiency were replaced by SEER2 ratings. Read on to find out what this important change means.
The Introduction of M1 Blower Testing in SEER Evaluations
SEER regulations were first implemented in 1992. However, efforts to implement the SEER testing process and its efficiency standards go as far back as 1987. Over the 36 years between the nationwide introduction of the initial SEER test and the adoption of SEER2 testing, a lot changed in the design, production, and overall efficiency of residential air conditioners and heat pumps.
SEER2 alterations to the SEER testing process have less to do with these progressive increases in AC and heat pump efficiency than they do with deficiencies in the original test. During early SEER evaluations, air conditioners and heat pumps were placed in controlled laboratory settings and assessed as freestanding units. No efforts were made to account for the air pressure and stress imposed by HVAC ducting and all the other elements of residential air distribution systems.
SEER2 tests include the addition of M1 blower testing to replicate the changes in air pressure and energy demand that central air distribution causes. This update raises the static pressure present in SEER lab testing conditions, using a water gauge (wg), from 0.1 inches wg to 0.5 inches wg. The result is a much more accurate look at how air conditioners and heat pumps perform after they've been installed in homes and when they're used in real-world applications.
Changes in Efficiency Requirements
Although the biggest difference between SEER and SEER2 evaluations pertains to lab testing conditions, 2023 also brought slight adjustments to mandatory efficiency minimums. The minimum efficiency ratings for both heat pumps and air conditioners under SEER2 are slightly higher. This increase accounts in part for adjusted efficiency expectations when HVAC air ducts are applied. It also accounts for the substantial increases in efficiency that have occurred between 1987 and 2023.
How AC Units and Heat Pumps Are Currently Being Labeled
All newly produced heat pump and AC equipment must now have a SEER2 rating that's on par with the requirements for its respective region. However, any units that were manufactured and stocked before 2023 can still be sold. In some instances, this creates an excellent opportunity for consumers to get solid discounts on products that simply lack accurate labeling or have not undergone the recently updated SEER2 test.
Currently and for the next several years to come, you may find heat pumps and air conditioners that have both SEER and SEER2 ratings on their labels. You might also find products that have only SEER ratings. However, over time, the relevance of SEER ratings will gradually decrease, and most products will display SEER2 ratings alone.
What Does SEER2 Testing Mean for Residents of Austin, TX?
Both SEER and SEER2 guidelines are established by region. To account for changes in climate and overall energy demand, the United States Department of Energy (DOE) has divided the nation into three distinct zones. These are:
Northern states
Southeastern states
Southwestern states
Austin falls within the Southeastern region. For property owners and HVAC companies within the State of Texas, 2023 brought significant changes in efficiency requirements. For instance, central air conditioners in residential properties must have SEER ratings of at least 15 or SEER2 ratings of at least 14.3. All newly manufactured heat pumps in the region must have SEER2 ratings of 14.3 or higher as well. The minimum SEER rating for residential air conditioners in 2022 was just 14.
Packaged units or packaged air conditioners have their condensers, compressors, and evaporators all in one place. These residential air conditioners are typically installed in smaller homes that have less space for indoor equipment. The minimum SEER2 rating for packaged ACs in 2023 is 13.4.
Qualifying for Efficiency-Related Tax Incentives in 2023 and Beyond
SEER2 ratings give consumers a better ability to limit their energy costs over time. Comparisons of these ratings offer insight into how much it might cost to operate a new air conditioner in your Texas home. This is especially true when including the SEER rating of your current air conditioner in these analyses along with past energy bills. In some homes, leaky or aging HVAC air ducts account for up to 50% of overall energy waste throughout the year. In most homes, the addition of static pressure from HVAC ducting greatly impacts the amount of work that residential cooling systems must do.
However, when shopping for a new heater or air conditioner, SEER2 ratings can also be used as a guideline to qualify for impressive federal tax incentives. Under the 2022 Inflation Reduction Act, homeowners who make efficiency upgrades in 2023 and the coming years can receive tax credits of up to 30% of their total installation costs when purchasing new heat pumps or air conditioners with sufficiently high SEER2 ratings. Thus, whether your priority is saving money or limiting your carbon footprint, you can use SEER2 labeling to meet your goals.
Are SEER2 Ratings the Top Concern When Choosing a New AC or Heat Pump?
Much like the SEER ratings that once served as the top indicator of AC and heat pump efficiency, SEER2 ratings certainly remain an important consideration when shopping for new home cooling equipment. However, they should never be the sole factor reviewed. Installing an oversize or undersized cooling system with an impressively high SEER2 rating won't provide the benefits you expect. Factors such as adequate sizing and cooling power are just as important as efficient design.
The easiest way to optimize the benefits that any new cooling equipment provides is by working with a licensed HVAC company to choose the right option for your home. HVAC contractors use complex Manual J Load Calculations to accurately determine correct AC and heat pump sizes. They also consider factors such as homeowner budgets, unique resident needs, remote, unserviced building areas, window types, ceiling heights, and more.
It's additionally important to note that updated SEER testing isn't the only regulatory change affecting air conditioners in 2023. Just as Puron or R-401a refrigerant replaced Freon or R-22 in 2020, 2023 is seeing Puron on its way out. No new air conditioners will be manufactured to use R-401a in 2023. Although existing models can still be sold, homeowners can also choose from options that use R-32 or R-454b. So, comparisons of residential AC refrigerants are an important part of the purchasing process as well.
We work hard to help our clients make informed decisions about the cooling equipment in their Austin, TX homes. In addition to providing regular updates on HVAC regulatory changes, we offer air conditioners, furnace, heat pumps, and ductless mini-split installation, maintenance, and repair services. Homeowners can also turn to us for ductwork, duct cleaning, insulation, and indoor air quality solutions. To schedule an appointment, contact Trusted Heating & Cooling now!