At Trusted Heating & Cooling, we're committed to offering professional and affordable air duct repair in Round Rock, TX and nearby areas. Maintaining the integrity of your air ducts is essential for your comfort and safety. Over time, air ducts can develop leaks and allow pollutants to get into the system. Damaged ductwork allows cool or warm air to escape into the walls of your home instead of getting distributed to the rooms where it's required. This can lead to increased utility bills and reduced HVAC efficiency. Williamson County can have extremely humid summers and harsh winters, and damaged ductwork can make you uncomfortable and cause various health problems. Allergies can worsen as the seasons change, and without air duct replacement, you could be worsening these allergies by having more dust and reduced airflow in your home. In addition, pet dander can significantly increase if you don't have a well-functioning air duct.

Having our Trusted Heating & Cooling team assess your home's ductwork can help you understand the scope of your problem. Our seasoned technicians can help you determine whether you need air duct replacement or repair. By using products of the highest quality, we'll deliver long-lasting results.
Air Duct Repair in Round Rock
Several things can go awry with your air ducts. Poor insulation and dirty air ducts are some of the issues that need repairs. If your home is improperly insulated, a significant amount of warm or cool air will escape, straining your HVAC system. Another common problem is restricted airflow. In some cases, ductwork can crush, cutting off airflow completely. Luckily, Trusted Heating & Cooling can address all these problems.
In some instances, you may have to install new ductwork. Maybe your current ductwork was poorly designed or has seen better days. Whatever the case, our technicians can install new ductwork in your home.
There are several signs that you need air duct repairs:

Foul odors
Hot and cold spots
Poor indoor air quality
Air filters clogging unusually fast
Poor airflow throughout your home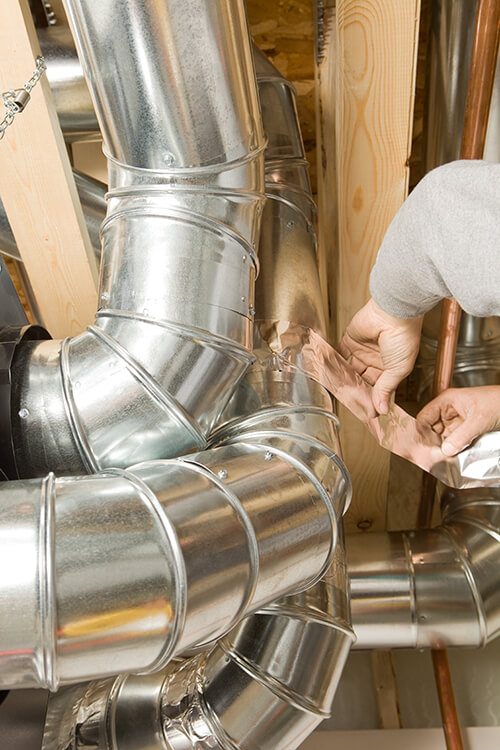 Qualified Air Duct Replacement Team
At Trusted Heating & Cooling, we're devoted to offering world-class services in Round Rock and nearby areas. We're Daikin and Lennox carriers, so you can rest assured that you'll get high-quality products and services when you partner with us. Also, we're BBB-accredited with an A+ rating. We have NATE-certified technicians who make your 100% satisfaction their first priority. We start any job by offering an accurate cost estimate and answering all of your questions. You can rely on us to turn up at our appointments punctually with the materials needed for the job. Our experts also provide air conditioning and heating services!

To learn more about getting air duct repair in Round Rock, call Trusted Heating & Cooling today.