Trusted Heating & Cooling delivers complete air duct repair in Cedar Park, TX. Taking care of ductwork issues right away can save you money and worry. Homes experiencing unexpected jumps in utility bills are likely in need of a repair or an air duct replacement. If you have a tear in the ductwork, pests can infiltrate and nest in and around your ducting system. A tight seal between your equipment and your vents prevents this from happening. Our team is qualified to inspect your system for damage that can cause this and other problems.

Older ventilation systems can be worn or loose at connection points. Many have broken seals and other hidden issues that have gone undetected. Poorly installed channels can develop damage quickly even in new installations. If you suspect a problem with your ventilation system, we'd like to know. Our team can help you locate problems and get them resolved ASAP.
Cedar Park Air Duct Repair
Because air ducts are hidden away, many homeowners forget about their role in a home's indoor comfort. Our skilled technicians are knowledgeable about locating this type of damage and getting it fixed for you. We make repairs and conduct replacements for all sizes of floor plans.
Our goal is to help you retain as much of the conditioned air as possible. We'll always use high-quality products and materials when working in your home.
Do you know some of the signs of a damaged air duct?

Dusty ventilation covers
Odd noises during system operation
Poor airflow
Sharp rise in energy costs
Temperature differences from room to room
Take care of dents, punctures, and gaps in your ventilation system with our assistance. Leaky and inefficient ductwork can keep you from enjoying your indoor air whether it's summer or winter. We're available to help you put an end to leaky ventilation with our duct sealing and duct replacement services.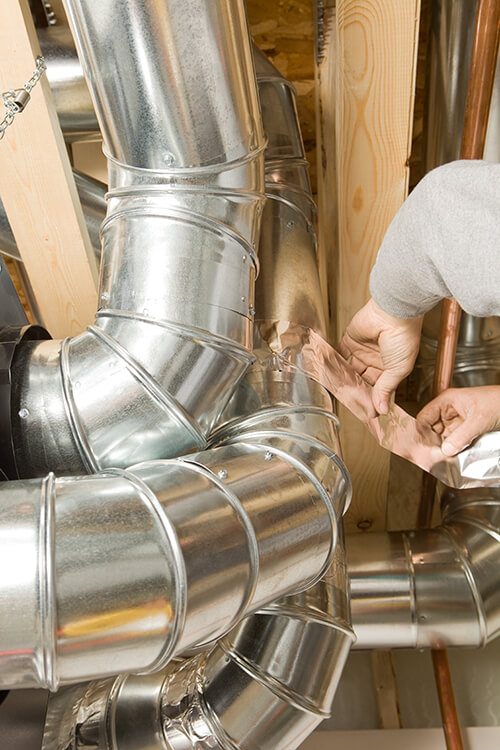 Local Air Duct Replacement Experts
Trusted Heating & Cooling is your go-to heating and cooling company for Cedar Park. We've been serving your community with timely, trusted services since 2014. Because we work with top brands, including Carrier, Daikin, and Lennox, our customers always get the reliable comfort they want. We believe in offering honest assessments and professional workmanship when responding to all service requests. Ask us about financing on approved credit for your next installation or system replacement.

Get year-round comfort with air duct repair in Cedar Park from the professionals at Trusted Heating & Cooling. Call today for more information.